The United States is home to thousands of people who love to gamble, and many of these are sports enthusiasts. While there are some great options for traditional sports betting online, many bettors have an interest in eSports. This country is known for producing many eSports champions, and with leagues, tournaments, and live events being held, there are endless ways to wager on these exciting competitions. Read on to learn more about how you can start betting on eSports in the US!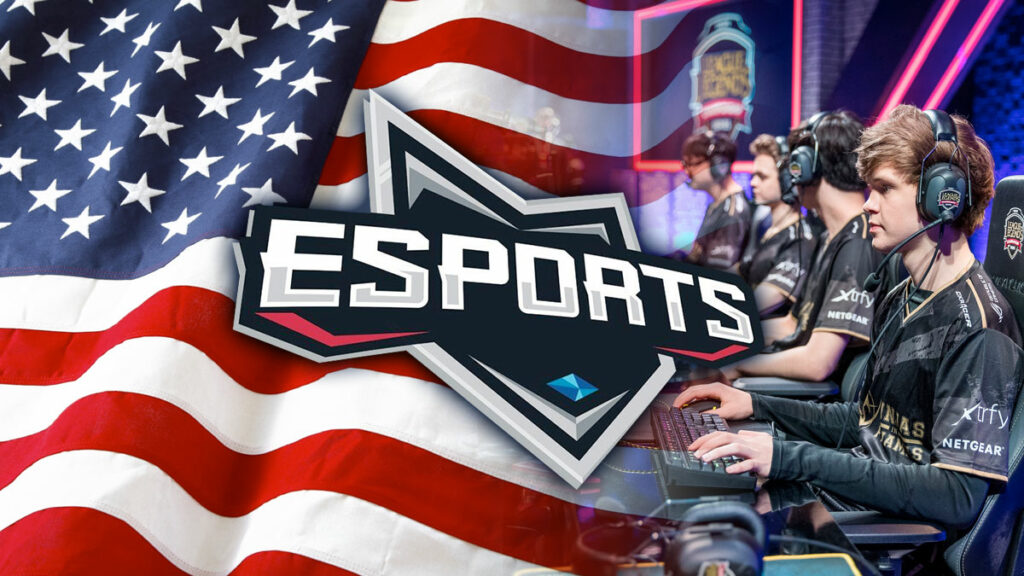 Is eSports Betting Legal in USA?
US eSports betting online is relatively new, and there are not many states that currently have laws permitting this form of wagering. At this time, there are just four states where residents will find an eSports bookmaker legally operating with a license. These states, including New Jersey, Tennessee, Nevada legal, and West Virginia, currently operate trusted online betting sites where eSports wagers can be placed.
Even with some of the largest tournaments in the industry being played and hosted in the United States, individual states are slow to legalize online betting. Many of the world's best professional players are US residents, and the USA is the second-largest gaming market in the entire world. However, most states have not allowed bookies to enter the US market, so there is a limited number of legal betting sites currently available.
ESports Betting in Iowa
In Iowa, residents are legally able to engage in traditional sports betting online, but eSports have not been added at this time. House Study Bill 200 has been introduced, which would legalize eSports online betting. This new bill was just introduced in February 2021, so it could be a few months, maybe longer, before Iowans see the launch of eSports betting options online.
ESports Betting in Florida
Online sports betting is not yet legal in the Sunshine state. While many moves were made to legalize betting in 2020, they were all shot down. Lawmakers plan to continue to move forward to set forth laws and regulations for sports betting, but it is unclear whether this will also include eSports.
ESports Betting in New Jersey
For those in New Jersey, betting on eSports at online bookmakers is completely legal. There are many sites in the state with licenses to operate, and you will find all of the popular eSports games being supported. Regulated by the New Jersey Division of Gaming Enforcement, these sites present a safe way to engage in eSports wagering.
ESports Betting in Nevada – Legal
You will find several reputable sportsbooks operating in Nevada that host eSports games and tournaments. Betting on these is 100% legal, and you will find some of the most popular bets being match-winner markets, overall tournament winners, and head-to-head.
eSports Bookies Operating in US
Due to the limited number of states that are offering licensed and legal sites for eSports wagering, you will find a shortlist of operators. As more states legalize this type of wagering, you will find other brands entering the market. Here, you can find the top sites available, and most of these offer great promo codes for special offers.
· Bovada – Bovada is a trusted site that accepts US members and welcomes you with a great sign-up bonus. You will find competitive eSports markets and great odds. With your account, you can also engage in traditional sports betting at Bovada.
· BetOnline – BetOnline has a dedicated eSports section where you will find great games like Hearthstone, Call of Duty, and Dota 2. Enjoy PC and mobile access and some great free bets as bonus deals. This site supports all types of bets, and streamers will appreciate the live in-play options supported.
· Bet365 – Looking for one of the best US sites? Check out Bet365. Here, you can enjoy a complete list of events and view a full schedule of what is to come. The site offers live betting and streaming as well as some impressive bonuses for new and returning members.
· 888sport – 888sport offers a solid platform for desktop and mobile bettors, and the site offers in-play betting. There is no streaming offered, but you will find the site simple and easy to use and perfect for beginners.
· Betway – Betway is a respected site that has been offering betting services for years. Now in the US market, you can enjoy wagering on the most popular eSports. This site is known to have the largest assortment of games, including the popular LoL, CS:GO, Overwatch, Fortnite, Dota 2, and many more. Get the latest standings on tournaments and enjoy top-paying bonus offers.
· William Hill – William Hill is new to the US market, so a smaller number of betting options are supported. You will find the Big Four of eSports being featured with options to bet on tournaments and matches. The odds here are good, but they are not released too early.
How to Choose a Fair Bookmaker in America?
When you are choosing a bookmaker, there are some things to take into consideration. Each site will have different things to offer. First, you need to make sure it is licensed and regulated, offering complete protection and legal access. You will also want to make sure the selected site supported the eSports you enjoy. Not every site has all sports covered. If you are a fan of streaming, check that this is also offered.
Be sure to review the banking methods, so you know you have a secure way to manage accounts. It is also beneficial to review the current bonus deals and see if free bets or other offers are available. Finally, check the customer support options and make sure they are available 24-hours a day.
Payment Methods in USA at eSports Betting Sites
To win payouts from placing cybersports bets, you will have to fund an account and use real money to place your bet. Each site will have a list of trusted banking options to use. You will choose this when you register for your new account. Here, we offer a brief guide to the popular types of methods that can be used to fund and manage your account at a leading esports betting website.
· Credit Cards – Credit cards are the popular option for many US wagerers, and you will find that the best sites will support all major cards. You can conduct fast and simple deposits using Visa, MasterCard, and American Express. When making a deposit, simply provide your card information. The amount of the transaction will then be credited to your monthly statement.
· eWallets – eWallets provide a fast and secure way to fund and withdraw from your account. You will find sites offering the use of Neteller, Skrill, and PayPal. These are the most popular and the most trusted in the industry. Just open an e-wallet account, fund that account, then conduct a deposit, and your funds will be instantly transferred to your bookmaker account.
· Cryptocurrency – Cryptocurrencies have become a top choice for those in the US. These are virtual currencies that allow you to remain anonymous while betting. You do not have to provide any personal or financial details. The most popular cryptos being used today include Bitcoin, Litecoin, and Ethereum. With these, you can enjoy free and almost instant transactions with enhanced security levels.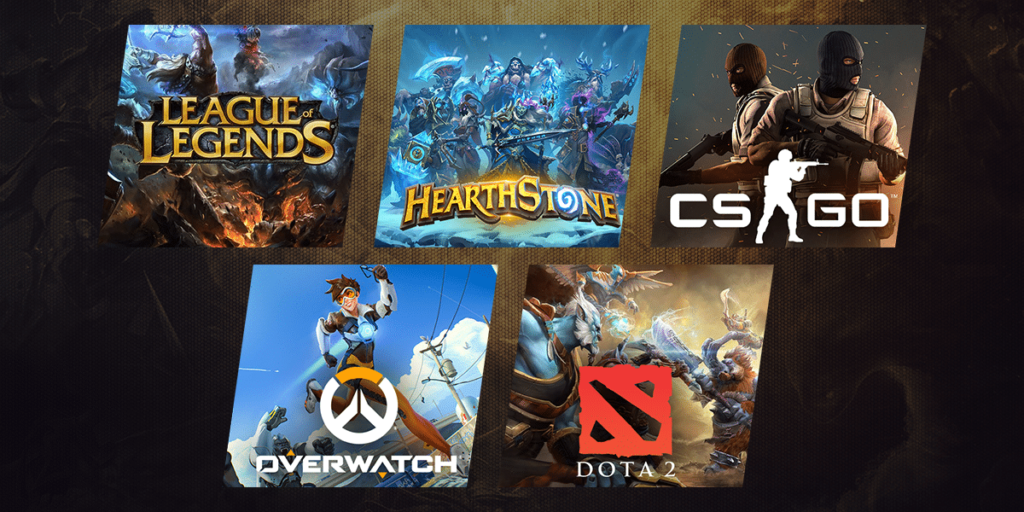 Most Popular eSports Games in US
Video games continue to become popular with gamers all over the world, and some fantastic eSports attract players of all ages. For many, gaming is not simply a hobby, but is a professional option to earn money from tournaments. With the ability to compete with other global players for a share of a prize pool, eSports has become one of the largest industries in the US.
Not only do these games attract players, but they are also a great way for bettors to place wagers and win payouts. Just like betting on traditional sports, gamblers can place eSport online bets and enjoy payouts! When you access a trusted bookie, you will find the most popular games being supported. These games have paid out the largest prizes and continue to provide excellent betting options.
League of Legends
League of Legends is perhaps one of the most popular games being played today. It is a multiplayer online battle arena game that has two teams playing against each other. Each team consists of five players, and the overall goal is to move across a map, destroying enemies along the way. In 2020, the League of Legends Worlds 2020 tournament attracted more than 3.8 million viewers, and more than $7.8 million was paid out in prize money.
CS:GO (Counter Strike: Global Offensive)
As a competitive first-person shooter game, CS:GO is currently the most popular eSport being played and watched. This game and the tournaments attract many online bettors, and it offers some of the biggest eSports prize pools. With more than 5,000 tournaments played, the game has over 13,000 professional players. More than $100 million has been awarded in prize payouts. With this game, players have the chance to win the biggest eSports prize while bettors can enjoy amazing live betting odds and super bonuses at leading betting sites.
Dota 2
Dota 2 is an older game that was first released in 2013, but it is still popular with players and fans and is featured at the top eSports betting sites. There are around 4,000 professional players involved, and the game has been featured in more than 1,400 tournaments. The majority of the money paid out from this game is at The International Championship, an annual event.
Overwatch
Overwatch is a unique game in that it combines a first-person shooter experience with MBA. Rolling out in 2016, this eSports has remained a top choice for players and bettors, and there have been more than 700 tournaments played. While it is not as popular as the other titles mentioned, Overwatch is still a great option when it comes to eSports betting in America.
Bonus Offers & Promotions for eSports Betting in US(list)
Bonuses and promotions can enhance your experience by offering free bets and free cash. Each site will have different offers available, and these will be offered to new and returning customers. Here are some of the common promotions you will find at leading US bookies.
· Deposit Welcome Offer – You can earn a match bonus of free bets when you open a new account and make a minimum deposit!
· No Deposit Bonus – Some sites will credit an account with free funds just for registering. Use these as a risk-free way to begin betting and earning payouts.
· Cashback Offers – Returning members will appreciate these deals as they can help to recoup losses. You can bet a percentage bonus based on your total losses over the past week!
eSports Live Betting in USA
One of the main benefits of wagering at a US site that features eSports is the ability to place live wagers. With live betting, you can bet as games and events are played and will always have updated odds. By watching a game through live streams, you can offset bets that may lose and take advantage of any shifts in the game.
Live betting is often featured on the most popular events, and you can follow your favorite teams and different eSports leagues as they progress through individual games or tournaments.
Mobile eSports Betting
Online bookmakers understand that many bettors are using a mobile device to place wagers and to stream live events. With the growing popularity of mobile betting, you will find that the USA's best eSports betting sites will feature mobile platforms. With these, you can place bets, redeem great bonuses watch live streams, get updated results and stats, and so much more.
The mobile experience is just like that when betting online. Your selected eSports bookmaker will offer a complete platform where you can conduct transactions securely, contact customer support when needed, and see a list of all upcoming matches, so you never miss out on your chance to bet!
You will find that some sites offer eSports betting apps that can be downloaded for Android and iOS devices. You can find the link for these downloads right at the main site. iOS users will also find the apps available on the App Store. If you prefer not to download software, you will learn that a number of the best online bookies will have a web-based platform compatible with all devices.