Counter-Strike: Global Offensive is one of the most popular first-person shooter games in the world. More commonly referred to as CSGO, this exciting combat-centric game continues to draw new players, fans, and bettors.
Before CSGO, there was CS: Source. Source was the second game in the Counter Strike series and was released back in 2004 by the Valve Corporation. It was well-received by the online gaming community and became a major title in esports betting at the time. While it's no longer receiving the same viewership, the game still has its place in the gaming community.
In 2012, Valve Corporation released this highly anticipated sequel. There were certainly a lot of updates to the original game, but the gameplay structure remained intact. Two teams still battle each other in a 5-versus-5 setup. Players act as either terrorists or counter terrorists, but now there are updated maps and huge improvements in the graphic quality.
If you're here, you're on the hunt for the game details, ways to bet online, and the best CSGO betting sites available. We have everything you need in this guide. Whether you're only passingly familiar with CS GO tournaments or have been a fan for years, you can find valuable information ahead. Read on to learn more.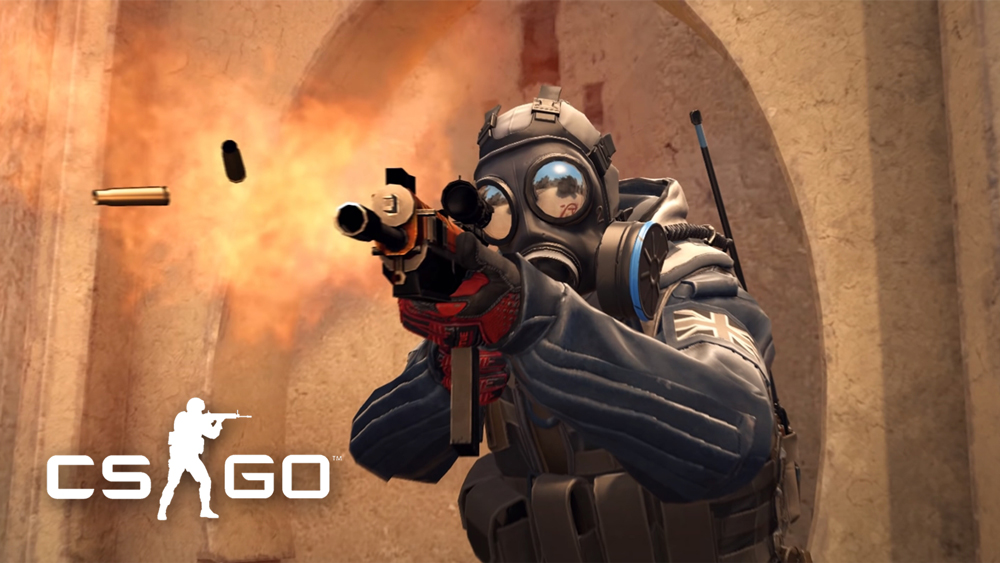 Counter-Strike: Global Offensive gameplay
Before you discover the most popular CSGO betting sites or learn how to wager real money on esports, let's take some time to cover how this game is played. Only once you understand the basic objectives and ways to win will you be able to place a bet and make it count.
There are two five-player teams competing against each other during a counter strike tournament or game. On one side, there's a terrorist team – on the other, a counter-terrorist team. Each team has their own objectives to complete.
The terrorist team needs to successfully plant a bomb in one of two locations. They also have hostages to use and leverage and must guard them to keep the advantage. The counter-terrorist team needs to locate and defuse the bomb or stop it from being planted altogether. It's also their goal to save the hostages.
A typical match has up to 30 rounds played on one map. All players swap teams after the first 15 rounds and take up the opposite objectives. To become the winner, one team has to win 16 out of 30 rounds. The match ends as soon as the 16th game is won.
There are some additional challenges included in CS:GO that aren't found in other first-person shooter games, such as Call of Duty. For starters, players who are killed cannot respawn in the middle of a round. Health doesn't regenerate, and any additional weapons beyond a pistol must be bought with in-game currency, which is collected by meeting objectives.
These atypical characteristics are part of why CSGO betting has become so popular. The game depends on a team strategy and the skill of each individual player, with no game mechanics to save teams from miscalculations. Gamers also have to think fast on their feet – most rounds last 45 seconds to 2 minutes max. Now that you understand the high-risk nature of the game, let's discuss the different ways to bet on it.
How you can bet on CS:GO
There are a handful of ways that you can join the community of punters that enjoy CSGO betting and choose best esports betting sites. Depending on your location, some or all of the following kinds of bet options might be available to you. There are pros and cons to each choice which have to be weight by the bettor.
Real money betting | Real money gambling is the most traditional way to wager on a major tournament of a CS GO major prize pool. This type of CS:GO esports betting involves setting up an account with one of the many online esports bookmakers. You'll add money to your online profile, weigh the odds, and bet against the bookies while taking advantage of CSGO betting site codes.
While real money betting is traditional, there are still some limitations. Not all countries or legal jurisdictions allow their residents to bet on esports, even on legit CSGO betting sites. We'll discuss how to choose a platform and find out whether you can access real money bets later a little later.
Play money betting | Another option is to engage in fantasy esports with a platform like DraftKings. This is sometimes a workaround if you can't bet against bookies from your location. You can instead create an ideal lineup of players and gamble with play money instead. Your lineup goes against those of other players and, ideally, allows you to claim the win.
Skin betting | Skin wagering has been called a few different names but refers to gambling with in-game items. Online CS GO bets between players often involve wagering different skins, such as those used for weapons. Skins can change the look of the item or the functionality.
Some players offer up rare items that they've collected or purchase as well. This is somewhat shaky ground considering that even in-game items have real-world value. There's currently a fair amount of discussion about the legality of this practice, but no decision has been declared yet.
CS GO low betting | The final option is to focus on placing low bets. These usually occur in social situations among local gaming groups. If you and a friend place cash bets on an upcoming match and opt for CSGO team betting, those will usually be low bets. Most bettors interested in wagering large sums move on to sportsbooks.
Special CS:GO types of bets
Thanks to the complex nature of esports, there are many ways to bet on match results that go beyond a winning and a losing team. Navigating these in-depth CS GO odds and predictions is more common among bettors that are gamers or fans themselves. Each requires a high level of familiarity with the best CS:GO player on each team as well as the team rankings.
First Blood | The name of this special bet tells you everything you need to know. This wager gives you a chance to evaluate the roster of each team in a match and predict which player will draw first blood.
Map Betting | There are multiple maps available within CSGO. Even a minor tournament will play across five different maps. To place this bet, you have to choose which team you think will win on each map.
Bet on killing | This bet is risky but fun. You have to call which player you think will eliminate a member from the opposing team first. It's unpredictable at best.
Bets on the outcome | If you keep up on the latest CS GO esport news or watch streams frequently, you might have a shot at winning this bet. It's available for championship and tournament games, where you pick the overall winner.
Futures | Year-round punters can take advantage of futures. Predict how the esports season will turn out among major competitors for a chance at the biggest prize pool.
Correct score | Last, but certainly not least, you can bet on the correct final score. You can go for an over/under or guess the total. These offer great payouts but require some pretty good guesswork and knowledge of the leagues.
CSGO betting sites with promo codes
Now it's time to talk about the list of CSGO betting sites that you need to check out. Each of these has been reviewed and verified by our team to make sure they meet a few key criteria. First of all, each site listed below has a valid license with a gambling authority, as well as 128-bit SSL encryption for maximum security.
These sites also offer a great array of bonuses, including CSGO betting codes, deposit matches, free bets, and more. Your gambling style and budget will be the determining factor for your choice. However, we're confident that any one of these options will help you fully enjoy the CSGO betting community.
BetOnline | This exciting platform has a variety of esports titles available, with CSGO chief among them. Punters can enjoy many bonuses on this platform, including a 55% deposit match worth up to $1000. The bonus code for BetOnline is BOL1000, and it has a low wagering requirement of just 10x.
Unikrn | Arguably one of the most popular sites for esports, you'll find a rich community here. There's a 3x deposit match up for grabs for new members, plus an array of rolling promotions. They even support UMode, which means that players can bet on their own success.
Bovada | Bovado is a large gambling platform that started out with a traditional sportsbook. They branched out to include esports like FIFA but have ventured further to offer CSGO betting and other popular titles. There's a $250 bonus available for new bettors, along with some of the best mobile support around.
Luckbox | Luckbox is a modern CS GO wagering website. Every match has an embedded stream so you can watch the action and make smart in-play bets. Use code GLHF to claim a 100% deposit boost worth up to $100 when you open a new account.
GG.Bet | You can Get Good and GG.Bet by using their bonus code: GETGOOD100. This gives you a deposit bonus worth up to $200, along with 20x on odds of 1.75 for CSGO markets. They stream every game available for betting and have a wide range of special markets available.
Main CS GO tournaments for esports betting
Major tournaments run year round in the world of CSGO betting. This provides continued opportunities for players to show off their skills, teams to improve their rankings, and bettors to collect money. The number of teams competing in each event will vary, as does the prize pool. Below, you'll find a list of the most notable tournaments in 2021 and their schedules.
BLAST premier | This is a year-long tournament that involves 32 international teams and roughly 280 possible matches. It began in the middle of January and will run through the middle of December.
IEM Katowice | This fast-paced tournament involves 24 teams and takes place in Poland. It runs from February 15th to February 27th of 2021.
ESL Pro League | This global tournament is a highly anticipated fall event. In 2021, 24 teams with compete from October to 23rd to November 7th.
DreamHack Masters | This tournament is favorite among viewers because of the way it's filmed and streamed for the audience. Some details are up in the air still, but it will run from June 3rd to June 13th.
IEM Summer | This online tournament will include 16 international teams and begins on June 3rd of 2021.
PGL Major Stockholm | This is another major tournament with a $2 million prize pool. From October 22nd to November 6th, 24 teams will battle it out at Ericcson Globe.
IEM Winter | This online tournament runs from February 16th to February 28th of 2021 and will include 24 teams.